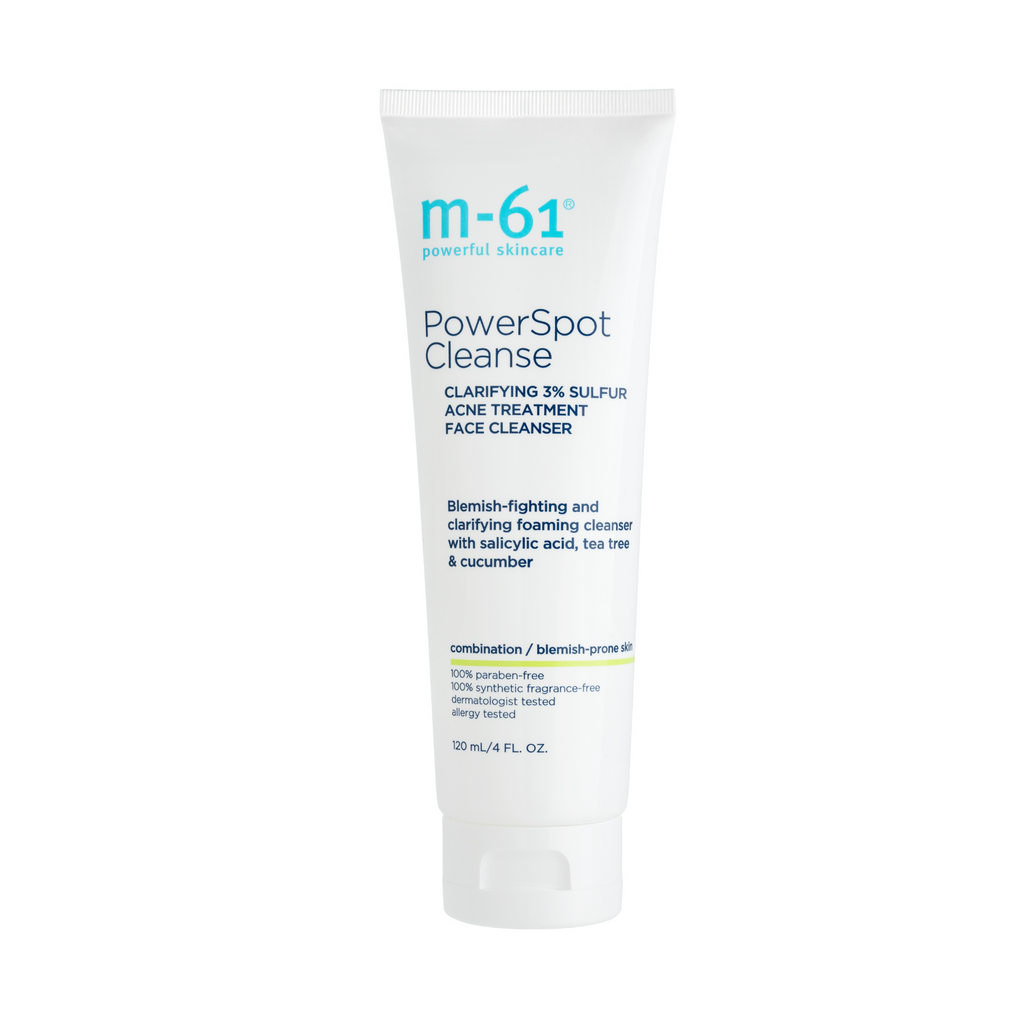 PowerSpot Cleanse
3% SULFUR CLEANSER
WHAT IT IS
This medicated, acne-fighting foaming cleanser washes away dirt, makeup and deeply cleanses pores to treat existing blemishes and prevent new blemishes from forming, without overdrying the skin. 3% sulfur reduces and prevents acne blemishes, salicylic acid, glycolic acid and witch hazel help to reduce the appearance of blemishes by naturally unclogging pores, and tea tree helps keep overactive skin under control.
BENEFITS
Deeply cleanses pores. 

Fights acne and treats existing blemishes. 

Prevents new blemishes from forming. 

Soothes and calms skin. 

Helps reduce redness. 

Foams with water to create a deeper cleansing experience. 

Gluten-free & vegan. 

Dermatologist & allergy tested. 

Paraben & phthalate free. 

Synthetic fragrance-free. 

Sulfate-free. 

Free of synthetic dyes. 

No animal testing.
KEY INGREDIENTS
Sulfur helps to unclog pores and reduce and prevent acne blemishes.
Glycolic and salicylic acid help reduce pore size, reduce the appearance of fine lines and improve the skin's tone, texture and clarity.
Witch hazel helps to shrink pores and soothe skin.
Aloe, cucumber and camphor help soothe and cool the skin.
Tea tree helps calm redness and swelling.
Turmeric helps calm the skin and has been known to reduce scarring.
BEST FOR
Blemish-prone or combination skin types
DIRECTIONS
Gently lather a small amount of cleanser in moistened hands and apply to face and neck. Rinse with warm water. Recommend following with PowerSpot Moisturizer. 

Caution: Avoid direct contact with eyes. Rinse with cool water if eye contact should occur. If bothersome dryness or peeling occurs, reduce frequency of use. Do not use this product if you have very sensitive skin or if you are sensitive to sulfur.